Philosophy
The Hampden Consultancy recognises that the selection of any one professional organisation is never an easy task since many others appear to offer the same services and expertise.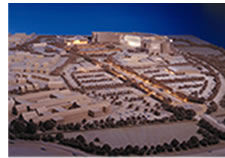 However, we pride ourselves in offering the necessary professionalism and technical expertise normally only found with larger practices, coupled with the degree of personal involvement and commitment that is usually only available from a small practice, thereby enabling us to provide a quality service to our clients.
Added to this is the overriding principle of ensuring that every commission entrusted to The Hampden Consultancy is treated with the utmost diligence and to a high standard, thereby enabling individual clients' objectives to be achieved.
Since an ever-increasing proportion of the total cost of a building is now allocated to the mechanical & electrical engineering services that it contains (due as much to their increasing complexity as to the awareness of the impact of environmental issues), building owners and occupiers demand higher levels of system performance with greater efficiency, flexibility and reliability from these same engineering services.
It is therefore essential in our view that the skills of professionally qualified engineers are employed to ensure that the most appropriate and cost effective solutions are derived.
As members of the Association of Consultancy & Engineering (ACE), we naturally subscribe to the view that the primary role of a consulting engineer is to provide impartial advice to their client and to protect his or her interest in any project, being completely independent of any contracting or manufacturing interests.
Indeed, in our view consulting engineering is not only about careful investigation, research, planning and design, but it is also about ensuring that any agreed solutions are both cost-effective and wherever possible practical, being implemented in both an organised and controlled manner, leading to a successful outcome for our clients.
Naturally such professional advice will not necessarily be the cheapest option but it will often represent a small proportion of the 'whole life' cost of a project.
This philosophy is also applied to our work within the expert witness field, where we look objectively at each dispute from all perspectives and endeavour to outline to our clients the technical merits or otherwise of the particular dispute.
As a Member of BSRIA (Building Services Research & Information Association) Bob Swayne sits on several technical committees, helping to prepare technical publications on a number of topics related to mechanical & electrical engineering services, including providing input on problem areas as a result of his expert witness work. He is also a member of the BSRIA Publications Panel, reviewing technical documents ahead of publication.
This extensive experience and depth of knowledge means that Bob is in high demand as an expert witness, using his technical expertise and wide experience to encourage all parties to a dispute to seek settlement and agreement in preference to litigation wherever possible.
Shown below are some comments received from clients and an awards panel:
"Clear & concise advice, which was easy to follow & backed up with demonstrable competence..."
Mr Simon T Jackson, Partner, Clyde & Co LLP
"Very approachable, very clear, very thorough. Thoroughly understands both his subject and the court procedures and requirements. Would unhesitatingly use Mr. Swayne again and have recommended him to others."
Ms Derryn Penelope Rolfe, Legal Director, Gateley PLC
"I am writing to advise you that this matter has now been settled. I believe that disclosing your report to the Claimant's solicitor played a significant part in encouraging the claim to be settled in my client's favour. Thank you for your assistance, and I hope that we have an opportunity to work together again in the future".
Mr. Paul Brampton, Partner, IBB Solicitors
"Mr Swayne quickly understood the matters in dispute and provided a clear and concise report keeping both solicitors updated as he proceeded which was most helpful".
Mr. Allan Hooper, Director, JE Baring & Co Solicitors
"The Corporate LiveWire judging panel was particularly impressed with the application of his expertise to the undertaking of expert witness work..."
Corporate LiveWire Global Awards 2018