Philosophy
The Hampden Consultancy recognises that the selection of any one professional organisation is never an easy task since many others appear to offer the same services and expertise.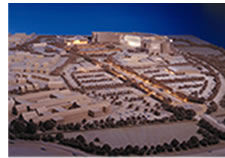 However, we pride ourselves in offering the necessary professionalism and technical expertise normally only found with larger practices, coupled with the degree of personal involvement and commitment that is usually only available from a small practice, thereby enabling us to provide a quality service to our clients.
Added to this is the overriding principle of ensuring that every commission entrusted to The Hampden Consultancy is treated with the utmost diligence and to a high standard, thereby enabling individual clients' objectives to be achieved.
Since an ever-increasing proportion of the total cost of a building is now allocated to the mechanical & electrical engineering services that it contains (due as much to their increasing complexity as to the awareness of the impact of environmental issues), building owners and occupiers demand higher levels of system performance with greater efficiency, flexibility and reliability from these same engineering services.
It is therefore essential in our view that the skills of professionally qualified engineers are employed to ensure that the most appropriate and cost effective solutions are derived.
As members of the Association of Consultancy & Engineering (ACE), we naturally subscribe to the view that the primary role of a consulting engineer is to provide impartial advice to their client and to protect his or her interest in any project, being completely independent of any contracting or manufacturing interests.
Indeed, in our view consulting engineering is not only about careful investigation, research, planning and design, but it is also about ensuring that any agreed solutions are both cost-effective and wherever possible practical, being implemented in both an organised and controlled manner, leading to a successful outcome for our clients.
Naturally such professional advice will not necessarily be the cheapest option but it will often represent a small proportion of the 'whole life' cost of a project.